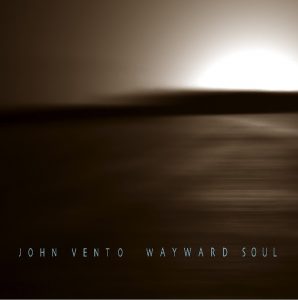 Wayward Soul – Released March 15, 2011
Produced By Buddy Hall & Frank Ferraro
"Simultaneously haunting and rousing, These songs will stir your soul" Brian Czarnecki WYEP Radio, Block Party Host.
"Wayward Soul is a remarkable album, It is at times touching, Heart-Wrenching, Soul-Baring and even groundbreaking for its genre" Rob Garrison, Formely of the Buzzpoets.
Wayward Soul Music Featured In Documentary Film
Five tracks, including a powerful live performance of "Betrayed", from the "Wayward Soul" album are featured in Frank Ferraro's critically acclaimed documentary, "Wine & Dust".
KINGDOM COME
There ain't no kings In kingdom come The sun only rises When the night is done I pass through the fire By the way of the cross Heavy is my sorrow Of my albatross Of my albatross Of my albatross Lyrics and Music – Frank Ferraro John Vento Lead Vocal Buddy Hall – Piano, Percussion Tim Hadley – Electric Guitar
WAYWARD SOUL
Hear the bells ringing in the valley below Sweet is the sound that takes me back home If I should fall before I grow old Ring them bells softly for this wayward soul Lead me Saint Christopher, to open roads Cold are my feet as I walk through the snow When I am lost I'm never alone Ring them bells softly for this wayward soul Hear the bells ringing in the valley below Sweet is the sound that takes me back home If I should die before I grow old Ring them bells softly for this wayward soul Ring them bells softly for this wayward soul Lyrics – Frank Ferraro Music – Buddy Hall John Vento Lead Vocal – Buddy Hall Acoustic Guitar, Organ, Percussion
MAMA
Mama, oh Mama, please pray for me today I'm lost alone and I can't find my way Got nothing left to give this world Can't face another day Mama, Mama, give me strength Mama, Mama, there's a shadow over me Everywhere I look, men ain't free These times are changing quickly But I just can't let it be Mama, oh Mama, set me free Mama, Mama, Mama I'm feeling blue There's darkness in my heart, holes in my shoes I lost my job yesterday And I don't know what to do Mama, Mama, I miss you Mama, Mama, I miss you Mama, Mama, I miss you Lyrics and Music – John Vento John Vento – Lead Vocal Buddy Hall – Piano, Organ Susan Halpin – Outro Vocal
BE MY LOVER
She struts into the room Well I don't know her But with a magnifying glance I just sort of looked her over, hmm We have a drink or two Well, maybe three And then suddenly she starts telling me, her life story She says, baby if you wanna be my lover You better take me home 'Cause it's a long, long way to paradise And I'm still on my own I told her that I came from Detroit City And I played guitar in a long-haired rock and roll band She asked me why I gave up all my music I said listen, baby, you really wouldn't understand And I said, baby if you wanna, be my lover You better take me home 'Cause it's a long, long way to paradise And I'm still on my own On my own On my own On my own I said, baby if you wanna, be my lover You better take me home 'Cause it's a long, long way to paradise And I'm still on my own Lyrics and Music – Michael Bruce Alice Cooper John Vento – Lead Vocal Frank Ferarro – Back porch Percussion, Foot Stomping Buddy Hall – Banjo Mandolin, Background Vocal
BETRAYED
Oh, I still love you, but I hate your foolish game Forgive me lord, I'm not placing blame I met Charlie at the staircase lounge That's when I saw her, I saw her, I saw her Oh, I just wonder, take me right or wrong Pain through the night as I'm dying but just getting strong Oh, I still wander, I wander, I wander I wander, I wander, I wander away Lyrics – John Vento Music Frank Ferraro John Vento – Lead Vocal Tim Hadley – Electric Guitar Russ Oblinger – Bass Frank Ferraro – Drum Programming, Piano Susan Halpin – Intro Vocal
UP JUMPS THE DEVIL, POP GOES THE WEASEL
Slingshot lover who lies all the time Creepin' like a snail on the blade of a knife Yeah, yeah, yeah, yeah Up jumps the devil and pop goes the weasel Rollin through life on whiskey and lies You blow smoke in the eyes of the blind I'm living to lose and fighting to die I'm a train full of baggage that will never fly Yeah, yeah, yeah, yeah Up jumps the devil and pop goes the weasel Yeah, yeah, yeah, yeah Yeah, yeah, yeah, yeah Up jumps the devil and pop goes the weasel Up jumps the devil and pop goes the weasel Up jumps the devil and pop goes the weasel Up jumps the devil and pop goes the weasel Lyrics and Music – Frank Ferraro John Vento – Lead Vocal Frank Ferraro – Guitar Loop, Background Vocal Buddy Hall – Bass, Percussion, Drum Programming, Background Vocal Russ Oblinger – Bass Outro Chris Hutter – Tenor Saxophone Scott Grill – Background Vocal Rhonda Watson – Background Vocal
BLOODLINES
When I was a young man I knew everything about everything And I just had no fear Late in the evening, my hands they grow cold Nothing beside me, I've got nothing to hold Son of my father, I felt his misery He tried to save me but I shattered his dreams Bloodlines Love, life and through pain, it happened again Bloodlines Love, life and through pain, it happened again Searching for glory in the powers that be Finally see the truth as it stands in front of me Through death, sadness and pain, it happened again Bloodlines Lyrics – John Vento, Frank Ferraro Music – John Vento, Buddy Hall John Vento – Lead Vocal Buddy Hall – Electric Guitar, Bass, Drum Programming, Moog Synthesizer, Background Vocals
EVERYTHING WILL BE ALRIGHT
As I stood in the doorway, on the edge of yesterday Reflections of my soul, shape the man I am today Everything will be alright Everything will be alright When the north wind blows, against the shotgun rain They'll be two trains a' rollin', only one goes my way Everything will be alright Everything will be alright I hear the sons of fathers, when I look across the sky Where wisdom is the wind, and the shining light my guide With nothing but my faith, I'll be right where I belong And when my strength comes back, our friendship will be strong Everything will be alright Everything will be alright Lyrics – Frank Ferraro, John Vento Music – Frank Ferraro, John Vento Lead Vocal – Frank Ferraro Piano – Buddy Hall Strings – Background Vocal
WAYWARD SOUL PROJECT CREDITS
Album – Wayward Soul, Artist – John Vento, Producer – Frank Ferraro, Engineered & Mixed By – Buddy Hall, Recorded @ Beacon Hill Studio – Dormont, PA Mastered By – Rob Garrison – San Antonio, TX Published By – Catscopypa – 2011